Zoho Payroll: No. 1 In Payroll Software
Payroll management includes everything related to the payment of employees as per the attendance and tax filing. Traditionally, this complete task is mostly performed via spreadsheets in companies that are still not embracing technology full-fledged, and that's why it was prone to many human errors. 
A few researchers from the University of Hawaii conducted a report stating that almost 88% of payroll spreadsheets contain errors in large to medium-sized corporations. Due to this, organizations face many challenges in terms of salary calculation, tax filings, tax reports, and other statutory compliant requirements. However, it is now easy to overcome the issue by using free and open-source payroll software. 
Looking for Payroll Management Software? Check out SoftwareSuggest's list of the best Payroll Software solutions.
A very recent study by Research and Markets shows how much payroll software is widespread and that its market is expected to grow at 9% CAGR in 2019-2025. Judging from this, we think it is time you consider utilizing payroll software for your organization. Firstly, we'll highlight the benefits of payroll software for you to help you know its importance.
Benefits of Payroll Software
Payroll management requires a lot of staff specialized in different fields, such as administration, accounting, HR, etc. Knowing that so many different professionals are working to manage the entire organization's payroll, it becomes crucial to be accurate and timely with salary accreditations. And all this while continually avoiding low morale, poor performance, human errors, and possibly even reputational and legal difficulties. This is where payroll software comes into the picture to help you carry your pay run with more efficiency and accuracy. Mostly all payroll software has different benefits to help you out with, but some of the most common amongst them are:
How Manual Payroll Processing is Different From Using Payroll Software
What To Look in a Payroll Software?
There are certain essential features that you should consider in payroll software before adopting it for your organization.
Accurately calculate the wages based on the predefined salary schedule.

Allow employees to apply for leaves and view their leave balance. Also, managers should be able to approve/reject the same.

Biometric integration for attendance management and wage calculation on that basis.

Generate payslips automatically every month and send them to respective employees through email.

Create reports on leave summary, wages paid to workers, worker's compensation, etc.

Perform statutory compliances such as tax deductions, due date reminders, etc.

Automatic deduction of advances or loans from salary.
Now that you know how
payroll software
has the edge over manual Payroll systems, it's time to think about automating your payroll process. Here's a list of 10 best open-source payroll software that we find are good to start with:
Top 10 Free and Open-Source Payroll Software
Tool #1. Collabrill
It is an India-based HR software that is designed to solve various needs ranging from CRM to payroll systems to human capital management. Collabrill is a cloud-based solution that can streamline multiple core business functions, such as employee management, leave, attendance, payroll, report generation, etc. 
The system provides an end-to-end solution for your payroll needs and is very convenient to use.
 Key Features 
Cloud-based interface and collaborative platform to manage HR functions

360-degree collaboration for handling various functions such as HR, Project management, portfolio management, project budgeting, etc. 

Flexible and easy-to-use

An astringent security protocol for data protection

Simplifies and automates payroll processing

Report generation for both employees and employers

Encourages employee engagement by maintaining communication between various departments
Tool #2. Kredily
With this significant HRM and payroll software, organizations can now manage their workflows without depending on spreadsheets. So you can now seamlessly manage your employee data, track their leaves and attendance, and manage other complicated payroll tasks.
Kredily software is straightforward to use and will effectively engage your employees and minimize your expenditure. The best thing about this software is that it is entirely free of cost and is best for MSMEs and startups. 
Key Features
Supports' Web Clock-In', tracks in-time, out-time, and breaks taken by employees

Provides location-based attendance of employees

Biometric integration is available

Customize workweek cycles, weekly offs, shifts, and salary structures for various employees

Eases statutory compliances

Centralized data to effectively manage HR functions

Manage employee finances and investments

Enables employees to view leave balance

Allows employees to send leave requests and upload documents
Tool #3. Timetrex
Timetrex is a complete workforce management software that provides benefits of automation to even small organizations. This Canadian Payroll software helps you to automate some of the stringent government regulations and business policies. 
Further, the software helps to ease the process of time-tracking, attendance, and payroll. The module is straightforward and can be deployed over multiple platforms. 
Key Features
Easy scheduling and time tracking can be accessed by employees from web browsers linked to their mobile

Integrated attendance and payroll

Generates tax reports 

Issues electronic pay stubs for each employee

Advances payroll tax calculator for computing taxes

Direct electronic transfer of funds to employees

Absent management and calendar tracking

Overtime tracking for each employee
Tool #4. OpenPro
OpenPro is one of the most reliable and versatile payroll software. It can help manage most of the employee data such as attendance, leaves, and calculate payroll based on the designated salary fed to the software by the company.
Apart from payroll, the software will also help you in finance management, ERP, shop floor management, etc. It provides mobile support, and you can choose between three plans depending on the organization's size.
Key Features
Simplified payroll processing

User-friendly interface due to which even non-technical employees can check their leave balance, salary, tax deducted, etc. 

Scalable and can be expanded with the growth of the organization

Compliance calendar compatible with government regulations

Pay periods can be defined for various employees i.e., daily, monthly, weekly, etc.

Employee classification i.e., full time, part-time, salary with overtime 

Built-in time card system makes payroll processing easier
Tool #5. Paymaster
Paymaster offers you various features to effectively manage your payroll and attendance. A single platform that serves multiple needs such as time and labor management, human resources, onboarding, workers' compensation, recruitment, benefits assistance, etc. 
You can customize the software as per the current and future needs of the organization and expand it as your business grows.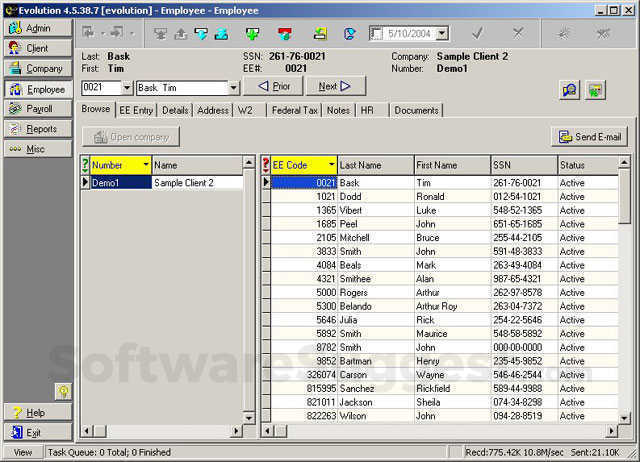 Key Features 
Tax credit facility helps to verify eligibility, wages paid, and applicability of credit

Integrated attendance and payroll

Comfortable pension and tax credit management

Manage the timesheet of employees

Manage leave requests sent by the employees and approve or cancel those requests

Intuitive interface that allows you to calculate taxes, expenses, arrears, increments for employees.

Electronic fund transfer system

Online employee self-service functionality
Tool #6. Talypayroll
Talypayroll is an open-source payroll software that is a perfect blend of payroll and compliance management. Designed specifically for small and medium-sized companies, the software is an answer to all your payroll requirements. 
The software is quite useful, and it helps you accurately calculate the tax requirements and deductions of all the employees. You can use the free version for five employees without any time limit.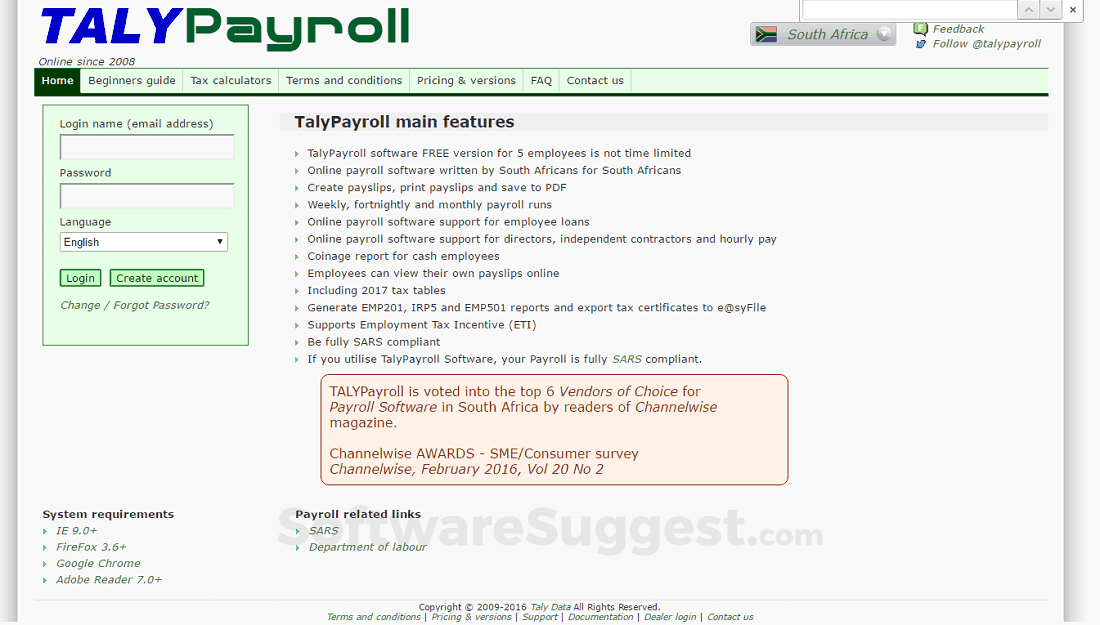 Key Features 
Create payslips, print payslips and save as PDF

Helps to sanction and manage employee loans

Create a coinage report for cash employees

Employees can view their payslips online

Employment tax incentive supported

Quickly generate tax reports and export tax certificates

Employees can be divided based on weekly, fortnightly, and monthly payroll runs.
Tool #7. Payroll4free
Payroll4free is one of the best software designed specifically for small businesses. Startups can make use of versatile payroll features offered by the software. This will come in handy when you want an automated system to calculate payroll of your employees and contractors and even manage their tax deductions and filings. 
The best thing about this open-source payroll software is that companies can use it for free if they have less than 25 employees to manage.
Key Features
Accurate payroll calculation of contractors and employees

File tax forms of employees

Option for electronic fund transfer to employees as well as paper check payment

Track employee leave and attendance

Employees can view their information online

Easy integration with any existing banking or accounting software

Easy reporting on tax and other compliance matters
Tool #8. WebHR
WebHR aims to be a "go-to" HR software by providing the company with all the tools it needs to manage payroll, attendance, compliance, and ancillary HR requirements. This software aims to aid companies to pay all types of employees it hires effectively, be it full-time, contractual, part-time, or even freelance.
WebHR is neatly designed to manage even workflows of employees working for different time shifts, overtime, holidays, etc. It helps you to comply with various legislative regulations and stay updated with it as well.
Key Features
Cloud-based software that can be operated from any place

Promotes employee engagement and collaboration at all levels

Salary calculation as per employee classification i.e., full time, freelance, part-time, etc.

Easy regulation of workflow and attendance of employees in different shifts

Online funds transfer

Ease in payroll taxing process i.e., withholding employees tax, filing and paying tax as per regulations

Extensive reporting allows generating reports in graphical and tabular form
Tool #9. PHP Payroll
PHP Payroll is a free employee attendance and payroll software specifically designed for medium and small enterprises. It is designed so that companies can improve the efficiency of their HR services such as automatic payment of salaries, employee attendance and leave management, generate salary slips, etc. 
It provides a holiday management system wherein employees can see the company's holiday plan, apply for leaves, and check their leave balance.
Key Features 
Easy computation of all the allowances and tax deductions

Detailed report generation

Gather information on employment costs 

Seamless calculation of taxes, medical & tax credit, increments, arrears, etc.

Calculate and credit salary as per the assigned salary structure

Holiday management system for effective attendance management and forecast

Employees can see the holiday plan, apply for leave and see the balance leaves 

Generate payslip at a mouse click

Generates statutory reports
Tool #10. IceHRM
IceHRM is a human resource software explicitly designed for small organizations. It centralizes entire data and allows access only to authorized persons, maintaining a high level of security. Time-based monitors help you to keep track of check-in and check-out time.
It caters to all the HR functions such as leave management, time management, onboarding, salary dispensing, and compliance management.
Key Features
Compile data related to employee salary and group into salary components

Calculate various tax and other statutory deductions

Calculation of overtime payment and including that information in salary slips

Add additional salary components based on attendance 

Employees can download salary slips in PDF form

Easy calculation of performance appraisal

Easy employee lifecycle management for current and ex-employees
Wrapping up
Almost all organizations today are looking for automated payroll software to simplify salary payments, time management, and ensuring adherence to legal and tax-related laws. However, choosing an excellent open-source payroll software that blends in with the organization and shows consistent results is essential.
The software mentioned above can be a cost-saving option for you and help you manage all the organization's HR functions effectively. 
Have you across any of these payroll systems? Let us know your experience in the comment section below.