Robotic Process Automation, or RPA, is the best bet when your team needs to handle multiple applications simultaneously. 
Its basic purpose is to reduce human intervention in tasks that are repetitive in nature and do not vary in each recurrence.
The fact is that RPA is still an emerging technology, and people aren't taking full advantage of its capability. 
If you are skeptical about investing in RPA tools for the first time, you don't have to worry. Here you will find a comprehensive list of top free and open source RPA tools that can lead your business towards operational efficiency. 
But mind you, traditional automation (which is a decades-old technology) is not the same as RPA. 
Many people get confused between the two. Therefore, I decided to clear up any misunderstanding. 
So, What Is the Difference Between RPA and Automation?
The difference between traditional automation and RPA is pretty simple.
Traditional automation removes the need to perform the whole tasks manually. It allows you to automate certain steps of the operational processes. Whereas, RPA sticks to the front-end of the application and carries on with the tasks without any intervention from humans on the back-end. 
The best part is that RPA technology is system agnostic, and so it can be deployed across various application types.
Besides, RPA enables you to take action quickly as it can mimic the role of an agent, while traditional automation can take months to implement. 
Despite that, traditional automation can be quite useful for several tasks, including helping with simple calculations and linking one system to another that does not require advanced programming or handling of multiple systems. 
So it merely boils down to your business requirement – whether traditional automation will be enough for your business, or you need to open your applications for RPA. 
But it is noteworthy that RPA is scalable. With its capability to integrate, you can easily expand its accessibility. 
How to Choose the Best RPA Tools
If you are ready to embrace the RPA technology, you must know how to choose the right one. 
1. Speed
This is pretty obvious. You want to employ an RPA tool to increase the efficiency of your business processes (along with speed, of course). So if your selected RPA tool can help you complete your tasks quickly, that is your clue. 
2. Ease of Use
Most importantly, the RPA tool that you choose should be intuitive enough to be used by a business analyst who has no programming knowledge. 
Choose a system that is flexible enough to accommodate various processes and requires less training to start working on. 
3. Scalability
In terms of scalability, the right RPA software should be able to work with various other RPA robots. 
Besides, the tool should be able to easily integrate with new technologies to expand its accessibility. 
4. Vendor Support
Always choose a reliable provider that offers strong support to its client. A good vendor will help with its implementation and training and certifications of the users.
Looking for best Robotic Process Automation Software? Check out SoftwareSuggest's list of the best Robotic Process Automation Software solutions.
Best Free and Open Source RPA Tools
1. Argos Labs
Agro Labs is a simple yet effective RPA tool that uses a core technology called "user behavior automation tool". This solution includes all the possible functionality needed to smoothly carry out various business processes. 
What sets it apart is that it can combine bot management (orchestration) systems, and you can integrate Argos with third party OCR and ML/AI services. 
 Features
Can be customized as per your business requirements by implementing Python SDK

Compatible with almost all platforms, such as Windows, Linux, Android, iOS, MacOS

Can be operated via any device, including virtual machines, mobiles, and tablets

Can create an all-inclusive database to gather insights via business analytics
Pros
Easy to use and maintain

Seamless integration
Cons
2. Automation Anywhere
Automation Anywhere offers organizations the option to function with unprecedented productivity and efficiency. It can automate the whole business or any part of the business, as required by the enterprise. The primary platform used by Automation Anywhere is called "The Intelligent Digital Workforce.
Features
Can create bots within a span of a few weeks and be scaled as and when the demand increases

Seamlessly integrates with existing business processes, systems, or applications

Centralized monitoring, management, and control room to track all functions from a single location
Pros
Secured platform

Audit trail available
Cons
3. Taskt
Another name among the list of popular and powerful open-source RPA tools is Taskt. Compatible with both conventional systems and web applications, it enables you to quickly create tasks without having to write codes. 
Offering comprehensive support for advanced features, its customer service team guides businesses in implementing custom codes and executing OCR and image recognition. 
Features
The package includes a gamut of commands for fast operation

Some of its advanced features are custom code, OCR, and image recognition

Its screen recorder (which has multiple recording options) ensures that you keep a track of all your actions on your screen. 
Pros
Easy to use

Available for both personal and commercial ventures
Cons
4. UiPath Community Edition
UiPath's desktop automation product caters to the needs of all companies, irrespective of their size and industry. t. One of the fastest-growing RPA providers, UiPath has around 5MM+ robots working in over 5,000 global enterprises.
The best part is that it can support Excel and provide SAP and Citrix integration. What's more, it offers 100% playback accuracy and is technology agnostic.
Features
The primary technologies used by UiPath include Desktop Automation, Web Automation, GUI Automation, Screen Scraping, Citrix Automation, Mainframe Automation, SAP Automation, SAP S/4HANA Migration, Excel Automation, Macro Recorder, etc

It allows easy automation via desktop or web browser while ensuring 100% accuracy and fast speed

The processes included in the package comprise Accounts payable Automation, Claims Processing Automation, Contact Center Automation, Finance, and Accounting Automation, Healthcare Payer Automation, Human Resources Automation, and Legal Automation
Pros
Large community forum

Intuitive interface
Cons
Some users felt that it can't handle a huge volume of data
5. Visualcron
Curated for Windows-based computers, Visualcron is an automation, integration, and task scheduling tool. It enables you to set your jobs or tasks to run on a specific time or event.
 This open-source robotic process automation software requires no programming skills in order to learn and build tasks. In fact, it even allows you to control the flow of actions, based on the type of error and output.
Features
Has more than 300 custom tasks, created with distinct technologies, based on customer requirements and feedback

Other included functions comprise audit, Task and Job logs, and output for each Task

Can easily integrate with different systems through file transfer and conversion
Pros
Easy-to-use interface

Good customer service
Cons
Detailed training module is missing
6. Workfusion
Workfusion is a comprehensive automation ecosystem, which can be integrated and personalized to fit your needs. It offers both paid and free versions. 
The free version is perfect for individuals building a desktop RPA. It has a recorder that captures user actions. Besides, it can be successfully used by both small companies and large enterprises alike.
Features
Gives access to monitoring tools to help evaluate the performances of the bots

Comes with a drag-and-drop function for easy transferability of objects

Comes well-equipped with ready-made automation templates
Pros
Easy to use

Easily scalable
Cons
No support for saving images into a variable
7. TagUI
Another name among the commonly used open-source RPA tools is TagUI, a command-line tool that enables digital process automation. Maintained by AI Singapore, this government-funded application helps in the creation of local artificial intelligence capabilities.
 It can be used to automate Chrome in both visible and invisible modes. Besides, you can integrate it with Python and R integration for big data, AI, and ML.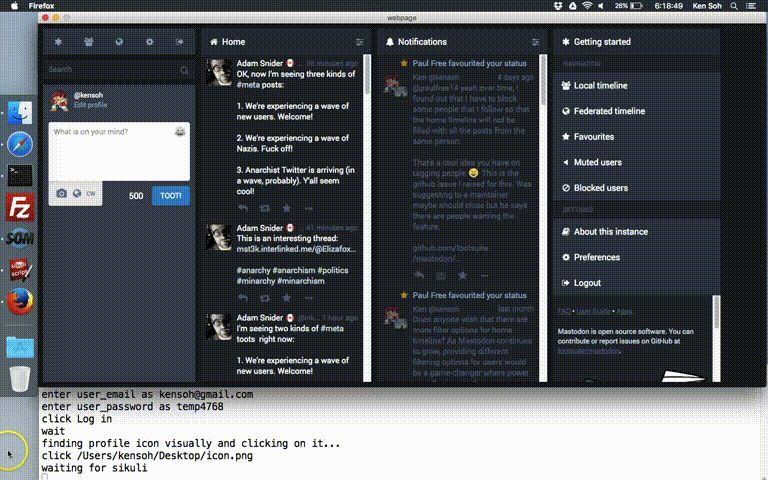 Features
It promotes the visual automation of websites and desktops

You can use TagUI to write in over 20 human languages as well as JavaScript

It offers the option of extension for recording web actions
Pros
Manage projects with ease

Easy-to-use interface
Cons
8. Automai
Automai is the perfect RPA tool for automating the high-volume of repetitive tasks. 
Even a business analyst with no coding knowledge can use Automai RPA. It can access your applications precisely as a human does via the user interface within an established framework.  
What's more, it doesn't use APIs that can affect the quality, security, or data integrity of your applications.
Features
Can be deployed across various industries, including healthcare, HR, accounting, supply chain, etc. 

Removes the need to invest in expensive IT skills and other new platforms

Intelligently copes with changing variables
Pros
Easy to use interface

Outstanding customer support
Cons
9. Another Monday
Another Monday is an end-to-end enterprise automation tool that takes care of all aspects of automation. It includes process analysis, bot management, and more. 
It is pretty easy to set up. What sets it apart is that the system is equipped with applications to better understand your own process. You can then export all technical elements to create a workflow chart. 
Furthermore, it can quickly accomplish all its task. Thus, Another Monday eliminates the need to deploy a large number of software robots.
Features
Offers detailed software documentation to help unleash the true potential of the application

Active vendor support for hassle-free implementation

Integrates AI to get intelligent bots
Pros
Active customer service

Highly scalable
Cons
Not friendly for a non-techie user
10. Blue Prism
Blue Prism is an enterprise-grade ERP automation solution designed for business users and developed for IT governance.
The good news is that the system comes well-equipped with top-tier security technologies. It guarantees data integrity by implementing strict user-access control and multi-level change approval.
It can be deployed on-premises, in the cloud, as a hybrid, or as an integrated
SaaS solution. No wonder more than 1650 customers use Blue Prism, including Fortune 500 and top brands. 
Features
Can build process automation via a drag-and-drop interface

Protects privacy by enabling individual system credentials, no sharing

Can scale task and digital worker volume on-demand
Pros
Facilitates integration

Easy implementation process
Cons
11. Automate Plus
Automate Plus is a useful, open-source RPA tool that provides powerful automation. 
Using the tool, you can easily build, manage, and monitor multiple machines and even-drive workflows. It integrates your whole workflow process and helps you build a successful RPA strategy. 
Plus, it's quite simple to install. You just need to fill up a form on its site, and you will receive download instructions on how to start using the RPA software. 
Features
Can build bots with form-based development

Offers 600+ pre-built automation actions

Stays compliant with role-based access and detailed audit logs

Gives you deep visibility and control over your workflows
Pros
Compatible with various devices

Organization of jobs and tasks is done well
Cons
Dashboard reporting needs improvement
12. Pega System
Pega System is a user-friendly RPA system designed to improve the speed and efficiency of various business processes. Its built-in workforce intelligence helps identify where and when to automate for maximum impact.
Besides, its unattended bots can handle the high volume of repetitive tasks and bridge systems and data integration gaps at scale. 
The best thing is that it is very well-structured. Anyone with the tool can learn to use it with minimal effort. Their active forum is readily available for any query or issue. 
Features
Offers open APIs to connect with existing services

Captures insights and gets complete details of how work is executed

Has a predictive analytics decision management mechanism
Pros
Highly scalable

Seamless integration
Cons
13. Robot Framework Foundation
Robot Framework Foundation is an open-source RPA solution designed to automate various business processes. 
It can be integrated with virtually any other tools to expand its accessibility. This flexible RPA solution is quite popular in test automation. It has a huge active community of thousands of developers with many industry-leading companies. 
Robot Framework is actively supported and continuously improving.
Features
Supports iOS and Android application 

Quite easy to create new libraries out of Python or Java code

Can add orchestration functionality through Jenkins plugins
Pros
Easy to use and set up

Reliable customer support
Cons
14. Automagica
Automagica is a smart, robust RPA solution that comes with a comprehensive set of functionalities. 
It offers a centralized platform to keep track of all your Automagica robots from a single dashboard. It enables you to monitor your robots and keep a close eye on the success of your automation running. Besides, its reporting functionality shares automated updates via email, SMS. 
With Automagica, you can easily automate cross-platform processes without any hassle.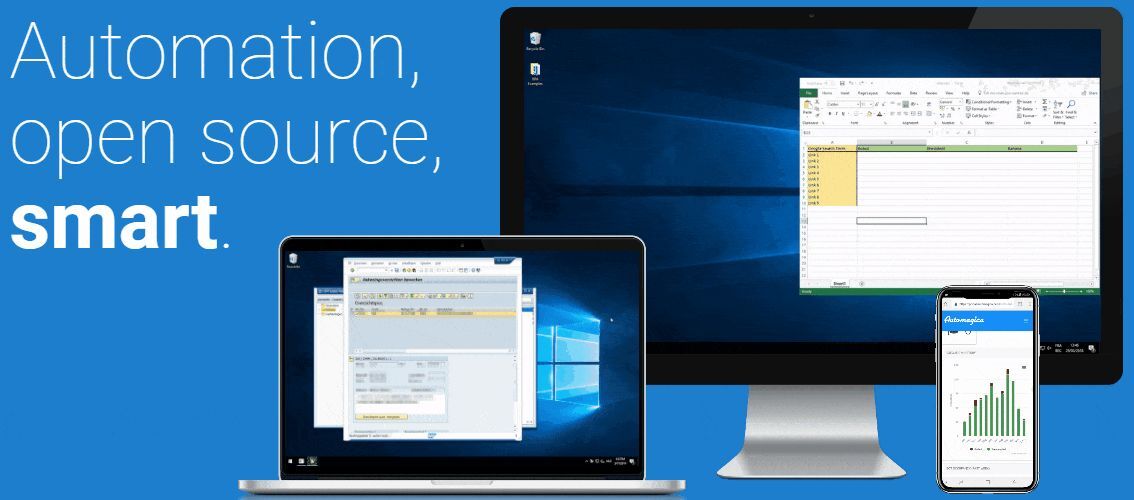 Features
Provides end-to-end support in all your automation needs

Enables scheduling of all automation in one place

Can control the versions of your automation to go back to a previous version
Pros
Full audit trail

Easily extensible
Cons
15. Robocorp
Robocorp is another powerful RPA tool that is relatively new in the market. This startup is creating cloud-based RPA tools that is open source in nature. 
Though it is still in its early stage, you can submit your email address to get early access. Besides, they have a resource library under the name of 'Robohub' to help developers. 
Robocorp works on a similar framework as that of the Robot Framework Foundation. 
Features
It is the first cloud-native solution for RPA orchestration

Can be deployed across any industry

Can easily customize workflows from readily available components
Pros
Easy to deploy and scale

User-friendly
Cons
Final Words
I know that searching for an efficient RPA tool can be a daunting task. For starters, it requires a huge amount of research and can burn a hole in your pocket. 
But it doesn't have to be like that for you. 
I am sure that this list of free and open source RPA software will provide you with the necessary advanced functionality relevant to your organization. 
If you think I missed any name to this list, feel free to tell us in the comment below. 
Are you using an RPA tool? If not, let us help you to choose one.