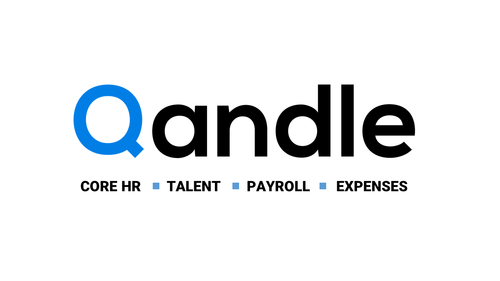 Qandle : No. 1 In Payroll Management Software
Employees are the backbone of any type of business. They work hard and deliver invaluable services every day, and a responsible company should treat them well and pay their salaries on time.
The business also has to comply with rules of revenue and customs departments, which is why they carry out a special process known as the payroll. 
Looking for Best Payroll Software? Check out SoftwareSuggest's list of the best payroll software solutions.
The payroll process deals with tracking the employee work hours. It also calculates each worker's salary or wage.
Finally, the payroll manager will distribute payments using a check. He or she may also directly deposit the amount to the employee's bank account.
Payroll Services and Outsourcing
Modern businesses have become very complex and time-consuming. Handling payroll for a few tens of people is a manual-intensive task and consider an enterprise with thousands of employees with basic payment, payment based on performances, bonus, tenure bonus, and so on.
Since payroll processing is not an easy task, companies usually try to outsource this work. While outsourcing is not a bad idea, companies have to be very careful in choosing the right agency as this demands sharing confidential information of the company.
These outsourcing companies proclaim expertise in number crunching. But their promises can be hollow and untrustworthy. So, keep a keen eye and choose an appropriate agency to do the work. Some payroll outsourcing service providers proudly advertise their skills in managed payroll.
What they mean is that they are experts in payroll compliance. They also claim expertise in the latest payroll software systems. They usually guarantee prompt and finely-tuned services of high quality. Before you choose an agency, have a look at these important considerations –
How Much of Payroll Do You Plan to Outsource?
In many businesses, administrative functions are not very important. They consider payroll to be a back-office activity without much significance. If you operate such a company, then outsourcing is definitely for you. The service provider offers a valuable alternative to in-house processing.
Small companies and startups have their doubts regarding payroll. They struggle to set up an accounting department. Or they find it difficult to hire the best accountants at low costs. Either way, they do not know how to handle the accounting processes.
Such companies can choose to outsource their entire payroll activity. There are many advantages of fully outsourcing the work. The service providing agency takes over the entire burden of payroll and will handle all the accounting intricacies. And you can focus on improving other business operations.
Some medium scale enterprises are not so forthcoming with their accounts. They would like to regain some control over payroll operations. These businesses can opt for partial outsourcing of the accounting work. This choice helps them regain some control without any loss of efficiency.
Whatever the outsourcing choice, the company will still be involved. In both partial and fully-managed services, you can still oversee some things. You can verify if the revenue and customs regulations are being satisfied. You can also check if payments and reports get done on time.  
Multinationals and large enterprises have in-house accounting departments. They hire professional bookkeepers and talented accountants. They retain full control over the payroll and other specialized activities. In such cases, outsourcing is out of option due to business requirements.
Also, Read: 9 Pros and Cons of Outsourcing Payroll for Your Business in 2020
What Is the Cost of Fully Managed Services?
Different companies have different payroll requirements. A fully managed payroll agency delivers tailor-made solutions. They understand the business and avoid a "one size fits all" approach. They also set up an integrated and accurate system. 
All these essential services are not inexpensive. When you outsource, the cost becomes an important factor. Yes, the service provider has to comply with all the rules and regulations. But they should also be in a position to deliver cost-effective services.
The cost of outsourced payroll activity will depend on these important factors –
The total number of employees who are working in the company. You have to provide accurate data to receive non-controversial and flawless services.

The fixed rates charged by the payroll service provider- This payroll cost per employee will determine the overall expenses of your company.

The type of service by the outsourcing agency determines the cost.  The costs vary for partial and fully managed payroll services.

Some agencies also charge a set-up fee in the beginning. You have to make sure there are no additional charges or hidden fees.

Additional services like pension plans and integrated HR may cost more. The final cost depends on the total number of payroll processes.
When you outsource, choose an agency that offers affordable services. The size of your payroll will influence the final costs. But you can always choose a service provider who is empathetic to the company's needs. They will provide a full range of low-cost, friendly services. 
Significant Criteria
Prepare a list of reliable payroll outsourcing agencies. Narrow down the list of choices based on key criteria. When you opt for fully managed payroll, screening is an essential activity. Find a payroll company that can deliver a customized set of services. Those who are empathetic will pay close attention to your requirements. They will make additional effort to understand the nature and scope of your company.
The agency's professionalism and range of services have to be top-notch. Do not ignore the following key criteria while hiring a competent payroll service provider –
In fully managed services, accuracy is an important criterion. You should be in a position to audit all the payroll processes. The timesheet records and employee information have to be error-free. You should also be able to validate the generated wage slips to avoid potential problems. Quarterly audits also strengthen financial controls and ensure superior compliance.
In the hi-tech world, automated clearing is a minimum requirement. The service provider has to calculate salaries and pensions accurately. They should also directly make payments to the staff's bank accounts. In the case of the check option, you can make necessary payment processes.
The agency should provide the client with an ePayslips option. These slips should have an on-time generation feature to process without any inaccuracies. They will reduce the additional costs associated with printing and postage. They also cut down the expenses related to printing multiple copies of the slips. Moreover, a paperless office is more efficient and easy to manage and maintain.
Fully-managed services are data-intensive and complex. Make sure the agency has the best software tools and systems. The data shared between the company, and the payroll provider is also very sensitive. In this situation, security and control of data exchange become paramount. Reliable agencies maintain long-term payroll reports to enhance the security of records.
A business manager would be clueless without data and reports. The professional payroll agencies deliver this crucial service without any delays. They prepare and accurately file the annual reports. The up-to-date reports are vital for preventing payroll fraud. Also, managers can make timely decisions and avoid hefty fines and other penalties.
Payroll and accounting activities are not just about crunching numbers. They deal with large amounts of money. And so, compliance becomes a very important criterion for any company. To avoid legal hassles, outsourcing companies should comply with all the rules and regulations. The agency you hire should also be in a position to satisfy this essential requirement. The best service providers handle all the personnel documents and annual compliance reports with aplomb.
A fully managed solution includes a complex system setup. It also includes the integration of human resources in a reliable fashion. To handle the technicalities, service providers designate integration teams. They estimate the IT infrastructure and deliver payroll without too much stress. Their system also can serve any business of any size – small, medium, or large.
Also, Read: What to Consider When Choosing Your Payroll Software?
Conclusion
To sum up, payroll is a challenging activity in any business. You will have to be careful as large sums of money are involved. Do not get bogged down by the legal and compliance framework. You can safely outsource to a reliable third-party agency. 
For those who need fully managed services, Outsourcing is a blessing. The company will not only cut down costs but also save crucial time. By making a switch, they can run a more efficient company. Their core business operations become more streamlined and impactful.
Also, do not underestimate the role of technology. The payroll functions will be more accurate and easily manageable with the help of technology. Fully-managed services relieve you of daily, mundane activities. 
The agency will even handle employee records and wage updates. Be clear about your payroll functions and choose a friendly agency. Pick a trustworthy partner who can deliver personalized and valuable services. Their payroll functions should satisfy the business needs and help cut down costs. The agency should also deliver accurate reports without any delay. 
The service provider has to enhance business operations. The client should be able to focus more on core activities that generate profits. He has to let the agency handle trickier activities like annual reports and tax compliance. Choose integrated services if you have that kind of a budget. Experts systematically implement these solutions. On the other hand, you can always opt for a tailor-made solution and run an effective business. Once you fully outsource the payroll, the management will breathe easy!