When we talk about office suites, the first thing that comes to mind is Microsoft Office.
Yes, we all have a de facto relationship with Microsoft Office. 😉
But, let's be clear – it's not the only choice for your word processing, presentation, and spreadsheet needs. Whether you want local or cloud-office functionality, there is a bundle of office suites that fit the bill. 
ONLYOFFICE is one of them.
An Introduction to ONLYOFFICE
ONLYOFFICE is an online office suite that provides you the most secure and efficient way to create, edit, and collaborate on your business documents. Do not worry! It's 100% compatible with MS Office formats. So, when you log into the platform, it will appear quite familiar.
With ONLYOFFICE, you can work with documents of all popular file formats. With DOCX, PPTX, and XLSX as core formats, it also supports ODT, ODS, ODP, PDF, DOC, XLS, PPT, CSV, TXT, RTF, HTML, etc. Moreover, it enables you to view, edit, share, comment, and collaborate on documents online. But what makes it more appealing is its capability to allow multiple users to work on the same document simultaneously.
That's not all! There's much more that you can do with ONLYOFFICE online editors. Let's have a look at it here.
A walk through ONLYOFFICE online editor
As you sign in to your ONLYOFFICE portal, here is what you see – a straightforward and user-friendly dashboard.
You can navigate to your calendar, chatbox, mail, or feed with a single click and get a hand on all the activities.
Besides documents, ONLYOFFICE offers you a complete productivity suite that you can utilize to work effectively anywhere. However, you can choose which modules your users need, add links to the navigation menu, and select a default start page. Thus, it lets you view what you want as you log in.
Let's drill down the offerings of ONLYOFFICE online editors or documents.
Documents
1. My Documents
ONLYOFFICE provides you with a document dashboard that is easy to understand and navigate through. You can have a glance at it below:
As you can see, it gives you a holistic view of all the documents you've worked on. You can simply click on any of the files to edit or view it. Moreover, uploading documents is also just a tap away.
ONLYOFFICE lets you add your Google Drive, Dropbox, and other accounts to have all your documents in one place. Thus, you no longer need to shift between windows to access files. What's more important, you can leverage DocuSign functionalities and get your documents signed electronically in an instant. And if you want to work offline, there's always a choice to do that!
Now that you know what ONLYOFFICE online editor has to offer, let's delve deeper into its different interfaces.
Working with Word Processor
As mentioned earlier, ONLYOFFICE is utterly compatible with MS Office formats. Additionally, it gives you a familiar interface to get accustomed to quickly.
You can use various styling and formatting tools, insert and manipulate different objects, and do even more with its host of integrated plugins.
I. File: ONLYOFFICE helps you save your documents in a plethora of formats. This includes DOCX, PDF, ODT, TXT, DOTX, PDF/A, OTT, RTF, and HTML. Hence, it eliminates the need to use file converters.
II. Home: You can say that the ONLYOFFICE editor is an excellent combination of MS Office and Google Docs functionalities. While it gives you an interface similar to the former, it also renders the latter's collaboration features.
Be it styling, formatting, or color schemes, ONLYOFFICE empowers you to be as creative as possible. That is, it lets you incorporate different wrapping styles, adjust line spacing, and more to make your document more informative and interesting.
III. Insert: No one likes to read a plain text. Images, charts, videos, infographics, etc. is what makes a document more appealing. Besides formatting and structuring your document, the ONLYOFFICE editor lets you put different shapes, multimedia, equations, symbols, and more in your document.
Moreover, you can insert drop-down lists, combo boxes, checkboxes, pictures, and more within your text. Thus, it won't be wrong to say that whatever you think to enhance your document's look and feel, ONLYOFFICE offers you.
IV. Layout: ONLYOFFICE editor's layout option lets you access the standard functionalities like orientation, margins, size, column, etc. as in the MS Word. But what makes it different is the watermark. With this online office suite, you can personalize your watermark – be it a text or an image.
V. References: A well-researched document often requires you to put source links, table of contents, bookmark, and more. While some office suites might restrict your access to such functions, ONLYOFFICE provides them all. You can hyperlink texts, put captions, and footnotes and ensure the authenticity of your document's information.
VI. Collaboration: When it comes to working with teams, the ONLYOFFICE editor's collaboration capabilities come in handy. You can share documents, invite teammates to edit, track the changes, compare documents, check version history, and do a lot more.
Sharing:

Besides casual access rights like Read Only for public content sharing and Full Access permission for complete collaboration, you can share files to perform specific tasks like reviewing, commenting, filling forms, and custom spreadsheet filtering.
Co-editing Modes:

With ONLYOFFICE, you can't just invite your team members to edit documents, but you can co-edit. That is, two users can edit the same document at the same time.
If you choose Fast mode, all the real-time edits will get saved automatically. Whereas, the Strict mode requires you to click on 'save' to sync the changes. However, this is a feature that similar tools in the market might lack.
Display Modes:

It gives you more control over your documents. You can see the changes suggested by the editors and accept/reject them. Different display modes that you can switch to with ONLYOFFICE include – Markup, Final, and Original.
Compare:

This is pretty helpful when you want to see the differences in the document after revisions. You may want to keep some changes in one document while removing some from the other.
ONLYOFFICE empowers you to merge the changes and create a separate version of the document. It thus beats other word processors you might be working with.
Version History:

It helps you keep track of all the changes done in your document. It also highlights who made the changes and when.
Moreover, you can restore the previous document versions whenever you require them.
Chat:

ONLYOFFICE promotes effective communication across teams. It lets you send messages, tag co-workers, and leave comments for them.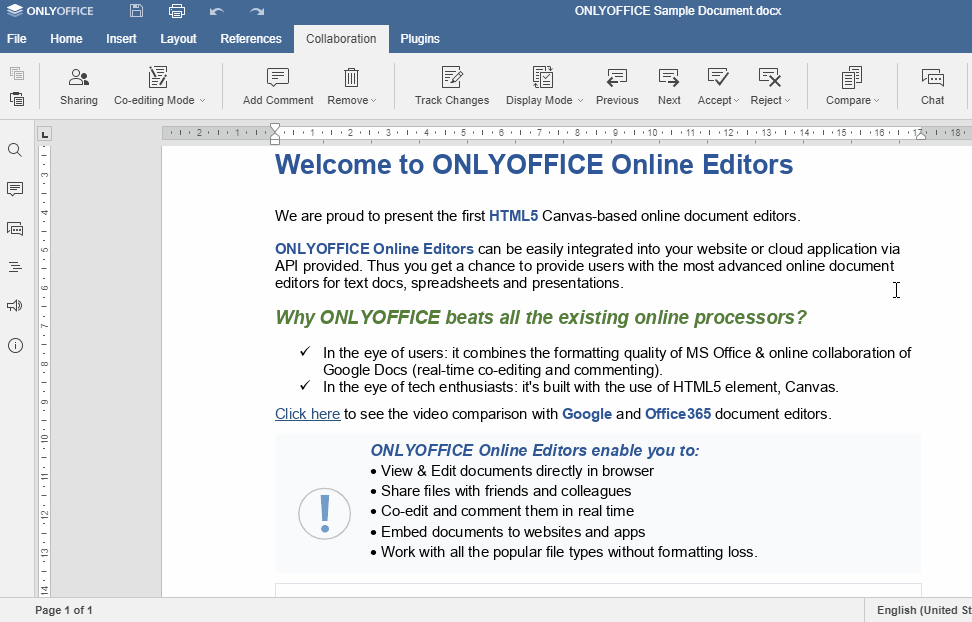 You can even communicate in real-time to resolve any issues or get things done immediately.  
VII. Plugins: ONLYOFFICE has several plugins to enable you to embed, publish, and print your documents from a single platform. This saves your time, boosts efficiency, and productivity. Here's a quick rundown of the plugins that you can benefit from:
Macros

WordPress

Highlight code

Mendeley

OCR

Photo Editor

Speech

Thesaurus

Translator

YouTube

Zotero
Wait! ONLYOFFICE online editor has yet more in store for you. Keep reading!
Sometimes, you love to have a larger working space, where there's nothing to distract you. ONLYOFFICE understands it, and thus, lets you customize your work area. Whether you want to hide your toolbar/status bar/rulers or fit the page size, it has got you covered. Furthermore, you can manage document access rights to ensure that only the team members you want can edit, view, comment, or share.
With ONLYOFFICE online editor, you can also set the document and text language, i.e., you can have your write-up in the language you desire. Isn't it cool? More than this, it even runs a spell check to make sure everything you send is correct. 
2. Shared with Me
Here, you can view the list of documents shared with you by other teammates. You can access, edit, and take necessary actions on it as per the access rights given to you.
The files that you haven't opened after edits will be marked 'new.' Thus, you can check them and do the needful. Besides, you can remove files from your list as and when required.
3. Common Documents
All the documents shared by the admin with common access appear here. This is specifically helpful when your team has some templates, style guides, language guides, and more to follow regularly. They don't require asking the admin for access or link every time they need such documents.
However, only the ONLYOFFICE portal admin can create folders here. Users with access can upload files with a simple drag-and-drop. 
4. Project Documents
ONLYOFFICE stores all the documents and images that you add to your projects here. You can edit them, organize them into folders, and upload new files whenever you want.
5. Recycle Bin/Trash
At times, we delete a file mistakenly. With ONLYOFFICE, you can be assured that your deleted files don't go anywhere. They get stored in the recycle bin. Hence, you can restore them right away.
Similarly, the ONLYOFFICE editor lets you work with your spreadsheets and presentations. You can dive into its robust feature-set and come out with beautiful end-results.
A spoiler for you: With the next update, the Documents module will get two more sections – Favorites and Recent.
Collaboration platform 
What's even better, you can use the ONLYOFFICE editor with its collaboration platform. This includes:
Document Management:

Store and organize your business documents in one place. Collaborate online and work effectively. Play video/music and view images of all popular formats with the integrated media-player.
Mail:

Connect with multiple email accounts and stay streamlined. Get centralized access to all your accounts.
CRM:

Optimize your sales and business workflows. Monitor your team and generate customized reports.
Projects:

Create and prioritize projects. Set deadlines, keep track of progress, and achieve milestones.
Calendar:

Schedule your timetable, sync it with third-party calendars, and never miss any deliverables.
Community:

Embrace effective communication and chat with team members in real-time. Write blogs, communicate in forums, and create bookmarks.
Thus, you can make the most of the ONLYOFFICE editor with its collaboration and integration capabilities.
Document editing and collaboration by your own rules
What's important, you are free to choose how to use the ONLYOFFICE editors.
You can use the suite as a part of the complete ONLYOFFICE solution for enterprises, i.e. integrated with the ONLYOFFICE collaboration platform (available in public cloud or on your own private network).
You can bring collaborative document editing to your favorite sync&share platform like Alfresco, Confluence, Nextcloud, ownCloud, SharePoint, Seafile, Liferay, Plone, and many others. Ready-to-use connectors developed by ONLYOFFICE or its official technology partners make the integration process a piece of cake.
It's also possible to integrate the editors into the solution you're building yourself.
Summing Up
Whether you want to create a document in multiple languages or enrich it with an array of multimedia, ONLYOFFICE lets you do it. What makes it fit in your needs is its ability to customize and manage the platform your way. You can set language and time zone to make it more comfortable. Moreover, you can personalize the platform with your team name, logo, color, theme, and more. 
ONLYOFFICE ensures that all your data stays secure with robust security settings. You can track user logins and activities, back up data, and ensure the password's strength. Well, not to forget, the third-party integrations that it supports, including VoIP, Digital Signature, and more.
If you're looking for an online office suite that lets you work online as well as offline, none can match the offerings of ONLYOFFICE. And, that's not the full list!
You can know more about ONLYOFFICE on its website or its SoftwareSuggest Product Profile Page.