In today's uncertain business environment, governance, audit, risk, and compliance management is more relevant than ever. Though complying with regulations and standards is not always an overhead for the organization, Compliance Officers classify continuing regulatory change as their greatest challenge. 
Knowing this challenge, less than three-quarters (69%) of organizations are leveraging technology to support their compliance initiatives.
To cope with the prevalent compliance issue, we have made a list of 15 open source compliance management software. The software mentioned below features role-based security, audit trail, electronic signatures, and employee training records to have full confidence in your data and processes' integrity. 
Open Source Compliance Management Software
1. ADAudit Plus
ADAudit Plus is an open-source software audit tool that carries out online Active Directory changes. ADAudit Plus records the real-time changes that further help in the timely preparation of audit reports. It further keeps track of file modification and notifies about it via mail to the reporting user.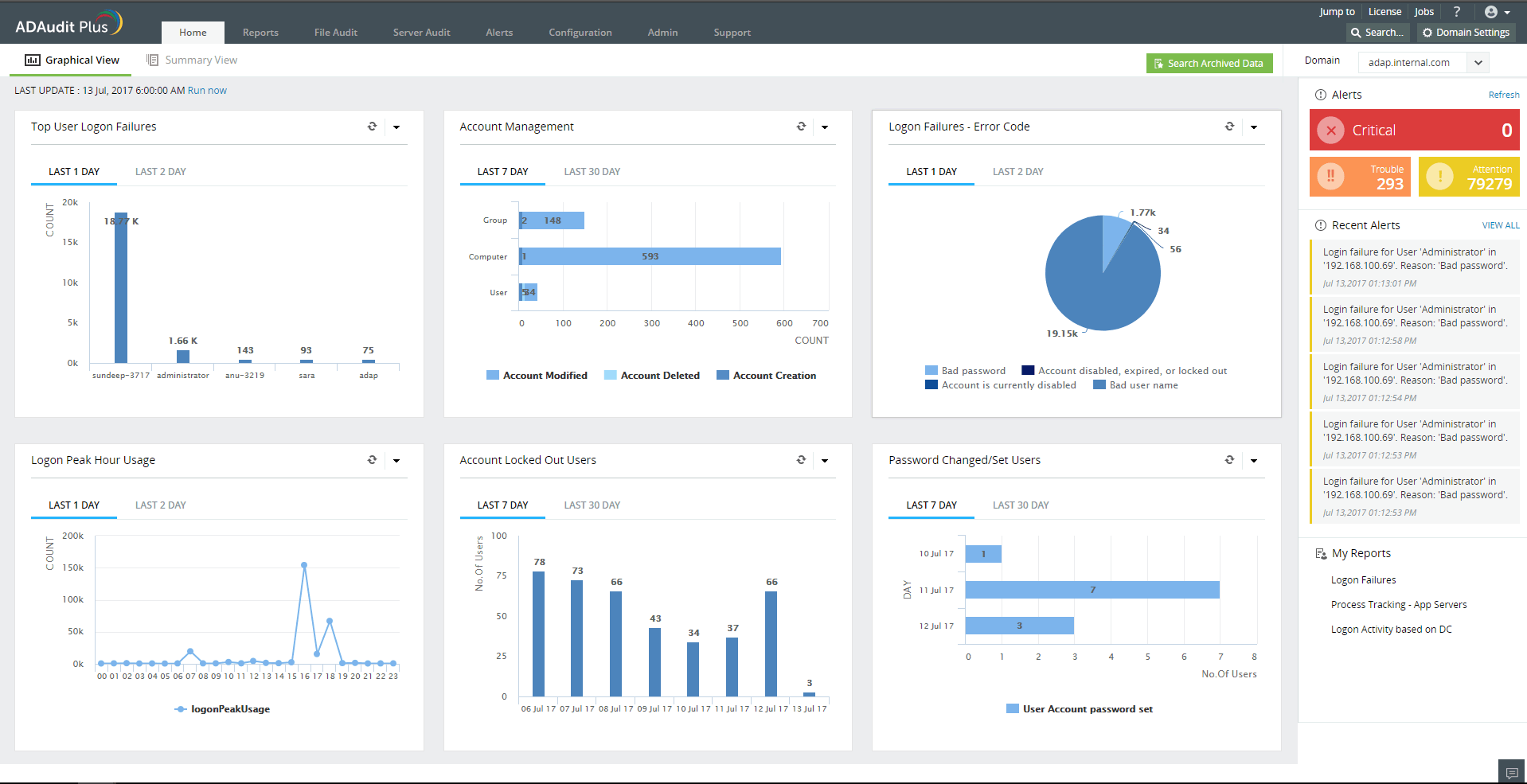 Features
Satisfies SOX, HIPAA, PCI-DSS, FISMA & GLBA Compliance Requirements

Track Logon and Logoff

Track file creation, modification & deletion

View & Schedule graphical reports with Email alerts
Looking for Compliance Management Software? Check out SoftwareSuggest's list of the best Compliance Management Software solutions.
Pros
Easy web-based access

An Intuitive User Interface

A separate Section for File Audit
Cons
Pricing
ADAudit Plus pricing starts at $595.00/ year

There is a free version. 

ADAudit Plus offers a free trial
2. Momentum QMS
Momentum QMS is an open source compliance management software that exclusively features superlative risk management, audit trail, training management, complaint management, and employee training records. Momentum QMS aims to secure user data and processes. Users can use analytics and system alerts to maintain visibility of operations across the organization.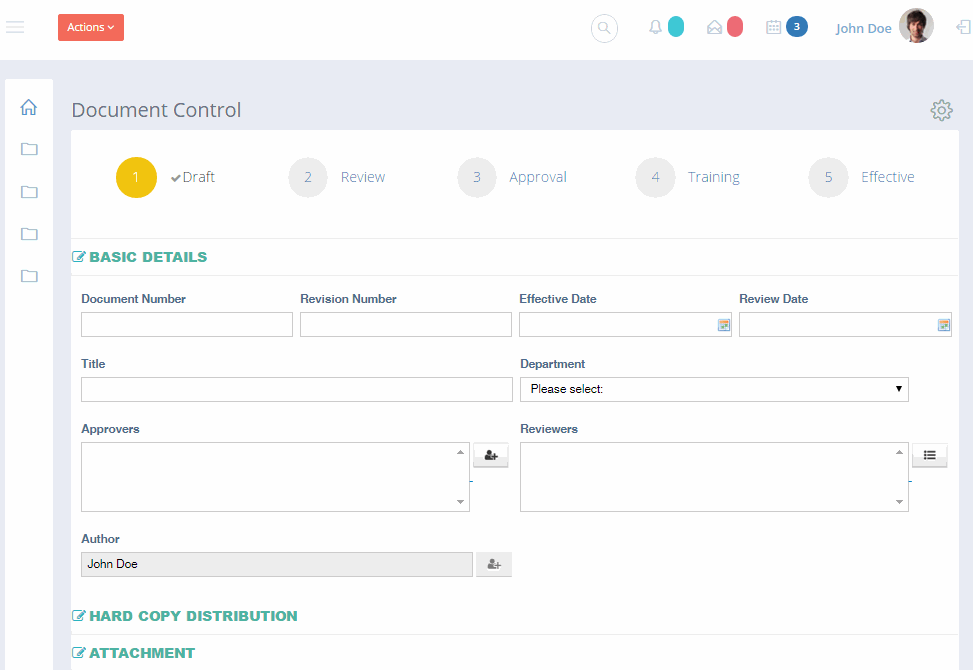 Features
ISO Standards Management

Corrective and Preventive Actions (CAPA)

Archiving & Retention

Compliance Management
Pros
A flexible and scalable software application

User-friendly modules

Automatic alerts on key areas for easy task completion
Cons
Pricing
Momentum QMS offers a free trial. Contact Momentum Systems for updated pricing.
3. Gensuite
Gensuite is cloud-based audit software that delivers intuitive, robust, and best functionalities across diverse industries. It enables compliance and management systems excellence for businesses and helps organizations control compliance processes and management systems effectively, especially within the health and safety sector.

Features
Compliance calendar for systematic follow-ups

Streamlines the tasks with the audit team

Flexible configuration

Data analytics & multi-language interface
Pros
It is user friendly

Great EHS Software with diverse functionality

All the information is available on one platform
Cons
It lacks to offer flexible EHS data integrations when operating as a third-party contractor
Pricing
It provides a free trial. Get in touch with the vendor to know the updated pricing
4. Black Duck Hub
Black Duck Hub is an open source compliance software that ensures security, quality, compliance audit services, and mitigates data theft risk. Black Duck helps audit all the relevant information the business needs to assess a broad range of software risks.
Features
Open Source and Third-Party Code Audit

Open Source Risk Assessment

Web Services and API Risk Audit

Security Controls Design Analysis
Pros
It detects open source vulnerabilities

Excellent customer support service (both pre and post-sales)

It provides detailed dependency information
Cons
Upgrading Black Duck Hub is a significant undertaking

Some of the upgrades have glitches
Price
Black Duck Hub pricing starts at $5000

It offers a free trial

Black Duck Hub does not provide a free version
5. SanerNow
SanerNow is an open source compliance and IT asset management tool. It helps gain full insight and control over the IT asset inventory of the company to make a better purchase decision. 
It identifies with systems that do not meet different security requirements and allows IT administrators to fix them.
Features
Supports major regulatory standards like HIPAA, PCI, ISO, and NIST

Detects non-compliant devices using a lightweight agent

Seamlessly regulates security compliance across your network endpoints

Creates and enforces your compliance policies in your network

Integrates Compliance management with other cyber hygiene practices​
Pros
Compares system configurations against NIST recommendations

Excellent user interface and dashboard

Easy to gain visibility about your endpoint security 

Easy to deploy updates to endpoints
Cons
It does not patch the missing details
Pricing
SanerNow provides a free trial

Contact Vendor for updated pricing details
6. Eramba
Eramba is an open source software audit tool perfect for organizations that appreciate open source solutions' versatility. Eramba provides a custom API that lets companies build links between the application and products from third parties. It makes the auditing processes quicker and easier, with the ability to perform batch operations and downloads. 
Features
Risk Management 

Compliance Management 

Incident Management 

Internal Control Testing 
Pros
Initiative features that make the job easier

User-friendly interface
Cons
Eramba is not the best choice for large corporations
Pricing
Get in touch with the vendor to know the latest pricing.
7. Qualityze
Qualityze is the open source software audit tool that covers the full audit lifecycle. Qualityze also provides exceptional performance, compliance, and system integration solutions built on the powerful cloud platform. The operations help organizations manage compliance and quality problems.
Features
Complaint Management

Compliance Management

Corrective and Preventive Actions (CAPA)

Defect Tracking
Pros
Amazing support team

Customizable and excellent reporting capabilities

Delivers the best industrial practices
Cons
Lack of compatibility with Google Drive
Pricing
Qualityze pricing starts at 30.00/month/user.
8. Netwrix
Netwrix is an open source software audit tool that lets companies streamline the business's internal system. It enables companies to remain at the top of cybersecurity and enhance business resilience by improving security, demonstrating compliance, and throughput of systems.
Features
Detects insider threats

Inexpensive compliance audits

Increases the productivity of operations teams
Pros
Business can quickly detect external and insider threats by providing detailed audit reports 

It notifies about the changes that may lead to security incidents
Cons
Netwrix is a bit finicky at times
Pricing
There is a free version. Netwrix Auditor offers a free trial.
9. iAuditor
iAuditor is an open source software audit tool that allows users to compile checklists, file reports, and perform mobile inspections. iAuditor conducts safety audits and inspections on behalf of the businesses. Users can collect various details in different file types and electronically store audit history to assess and monitor data.
Features
Users can conduct inspection even without an internet connection 

Users can export email reports after reviewing in various formats like PDF, CSV, DOCX, and XML

iAuditor is iOS, Android, Windows-friendly 

iAuditor is also available in offline mode
Pros
User can easily set up audits and can review the entered data 

It is easy to create audit checklists, and later use it in actual, physical auditing

iAuditor allows customization of workplace audit forms and templates
Cons
The Mobile version is a bit difficult to manipulate.
Pricing
iAuditor premium plan starts at $19/per user, per month
10. AssetSonar
AssetSonar is cloud-based compliance management software that comes with a thrust of potent compliance management tools that empower IT businesses to monitor their entire IT resource system. Through monitoring, communicating, and reporting on their vital IT properties, companies can optimize their workflows. 
Features
Compliance Tracking

Agent-based discovery

IT Asset Life Cycle Management
Pros
With AssetSonar, it is easier to put IT asset details into the system

It is highly compliant and keeps user license secure in the vault

It cuts down operational costs and time
Cons
Pricing
AssetSonar price starts at $49.99 per month/per user

AssetSonar does not have a free version but offers a free trial.

 
11. Qualio
Qualio is open source compliance management software that automates the tedious paperwork and processes needed for quicker credential and approval by regulators. It also allows users to handle document management, training, audits, vendors, complaints quicker than conventional methods.
Features
Defines workflows for approval and review

Creates records with automated numbering and effortless linking of related content

Captures approvals with digital signature 

Automatically notifies users of approved documents 
Pros
Streamlined employee quality training and overall QMS efficiency 

Clear audit trail for signatures and approvals 

Easy to navigate and simple interface
Cons
Pricing 
It costs $800/month, and you can also have a free trial before you start paying.
12. AuditNet
AuditNet is an open source software audit tool that retains the online digital system for auditors to share their audit work, documents, and reports. This program provides web-based training and gives auditors training for auditing and auditing expertise in information technology.
Features
AuditNet notifies and alerts its users in case of unauthorized access

iOS compatible software 

Users can access over different 2,000 audit templates
Pros
The auditors can enjoy free access to audit news, articles, and audit template listing on mobile
Cons
Pricing
Get in touch with the vendor to know the updated pricing. 
13. Conga Contracts
Conga Contracts is an open source compliance software that helps companies develop, monitor, retain, and disclose various business contracts. Conga Contracts assists users in automating numerous contract lifecycles. It also provides users with a centralized dashboard, which shows real-time personalized data and statistics.
Features
Fully automated process 

Increases sales velocity by quickly creating customized contracts

Controlling output and file storage options

Closes the loop on contract execution with flexible eSignature options
Pros
Everything is available in a single application 

It reduces contracting cycle time

Documents look very consistent
Cons
It needs separate licenses for sending documents for electronic signatures 
Pricing
Contracts pricing starts at $55 per user per month
Wrapping Up
We have seen the landscape of compliance management software and audit tools that remain high in demand due to the industry's diverse compliance requirements. 
We hope this blog has introduced you to some of the best compliance management software and auditing tools that will help you streamline control processes, strengthen compliance efficiency, and improve performance in the business's inner workings. 
Did we miss out on any software that you think must be a part of this list?
Do let us know in the comments below.