Zoho Inventory: No. 1 In Inventory Software
There runs a common sentiment in the ambition driven, CXO leaders, and business magnates of the world, that if you are following a technology that suits only your present needs, you are already lagging.
With an increase in the customer base comprising individuals who know what they want, you as a business owner need to up your game. These will not only cater to your inventory management needs but also serve a host of other integrated functions such as Customer Relationship Management, e-commerce, marketing, merchandise, financial, and warehouse management.
Read on to know more about the best-in-class retail inventory management software for SMEs. Get to know how they perform under various criteria such as their features, pros, and cons, pricing, USP, and which kind of enterprise they are best suited for (Small or Medium Enterprise.)
Best 13 Retail Inventory Software for Managing Your Retail Store
1. HDPOS by Hyperdrive
HDPOS by Hyperdrive is an inventory cloud-based billing and account management software. It comes with a user-friendly interface, a host of practical and efficient features, and is affordable. HDPOS offers add-on services that can help you grow your retail business online with complete simplicity.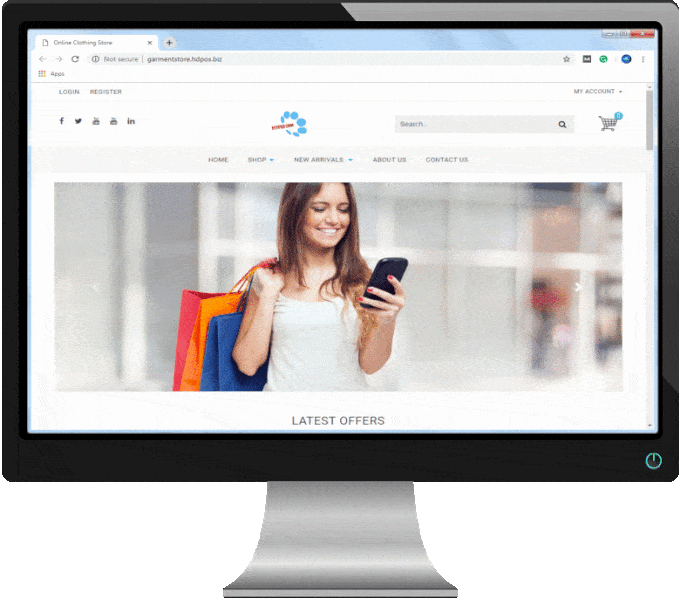 Looking for Inventory Management Software Check out SoftwareSuggest's list of the best Inventory Management Software solutions.
Features
Inventory Management
Batch Management
Coupons and Offers
Event log
Manage your customers
Smart Billing
Access Rights
Generate Extensive Reports
2-way SMS Support
Drill-down Reports
Manage Multiple prices
Pros
Easily scalable
Generates customized reports for your business
Ability to design and print barcode stickers
Generates customer loyalty programs, gift cards, loyalty points, etc.
Provides e-mail support
Comes with Windows desktop platform
Cons
iOS and Android devices are not supported
Pricing
HDPOS for Single Computer – Rs 1300 per month
HDPOS Client-Server – Rs 2500 per month
HDPOS Cloud-based Subscription – Rs 3500 per month
Best Suited For
Freelancers
StartUps
SMEs
Agencies
Enterprises
USP: Does not require SQL. Comes with a 30-day free trial version. Can be used for multiple cash registers
2. Shoper 9 by Tally
Tally solutions make a centralized framework available for all point of sale (POS) necessities. All the aspects of POS from sales, inventory, revenue collection, and profit margins can be integrated. Tally provides cost-effective enterprise solutions that are developed and customized, keeping in mind the individual requirements of clients and their areas of operation.
Shoper 9 has been designed by Tally to grasp lakhs of SKUs, thousands of proceedings per day, and hundreds of stores in the chain. The new retail business core strengths get to be used to full advantage this way.
Features
Streamlines with GS1 Standards
Can deal with a high volume of SKUs products and transactions
Manages business data and relevant information
Has the option to customize the business logic as per business needs
Allows for multiple pricing for a single product and one can choose the most relevant price when recording a transaction
Lets you categorize your business elements based on zone, city, state, country, and the store levels.
The enhanced security makes sure that all data is entirely safe.
Pros
Provides Tally ERP 9 integration
Unparalleled alerts management
Comes with multiple POS counter support
Offers predictive bill value
Comes with a print engine
Cons
UI is not that easy to grasp.
Pricing
Silver Plan – 1 month (Rs 600 + 18% GST), 3 months (Rs 1800 + 18% GST), Annual (Rs 7200 + 18% GST)
Gold Plan – 1 month (Rs 1800 + 18% GST), 3 months (Rs 5400 + 18% GST), Annual (Rs 21600 + 18% GST)
Best Suited For
Small and mid-sized businesses across various industries
USP: Cash flow can be managed through the MIS reporting module. Its remote functionalities enable data collaboration between multiple systems.
3. Marg ERP 9+ Retailing Software by Marg
Retail management software by Marg addresses the challenges of small and independent aspirants. Marg ERP 9+ helps retailers and large multi-store retail chains to manage their complex businesses. Their sector specific orientation, built using the latest technologies, assures retailers 'a visible improvement' in customer engagement. It helps them source the right product at the right price and at the right time.
Features
Stock reports of the different categories of drugs
Supplier details and fresh/near expiry/ expired stock
Single and multiple users
Generates separate supplier wise stock reports
Directory of suppliers and customers
Printing of labels
Data security
Individual hospital software
Printing of a report from anywhere in the world
Pros
A complete package of GST solutions like GST returns filing, E way bill solution, etc.
Suits varied industry types.
Provides for auto-posting of recurrent entries
Offers detailed MIS and reports
Affordable software
Cons
The plethora of features requires optimal training for ensuring proper use of the software.
User Interface is not that easy to grasp.
Pricing
Basic – Rs. 8100/- per year
Silver – Rs. 12600/- per year
Gold – Rs. 25200/- per year
Best Suited For
Small and mid-sized enterprises
USP: It offers a customizable Android app for its users.
4. PrimaSeller by PrimaSeller
Primaseller is one of the promising names in the category of retail management software. The software provides a flawless interface with incredible features. One can quickly sell the product by fetching the customers from various marketplaces like Amazon, eBay, Flipkart & many more.
A convenient feature of this software is in-store POS billing, which may help you manage your physical store sales. Further, one can very easily synchronize inventory. Whether offline or online, you can always have access to your inventory irrespective of location.
The option to create digital catalogs for your products adds extra essence to the product. The user-friendly interface and responsiveness of the site add to the seamless user experience. Also, the data is secure and safe with SSL security.
Features
Allows you to bill and monitor your walk-in clients via a mobile device or a web browser
Integrates with top-class shippers like UPS, USPS, DHL, and more
Gives you quick access by gathering all your online orders from different sites at one place
Supports multiple currencies to help clients working across the globe
Pros
It centralizes and synchronizes your online storefront, B2B sales in a single integrated platform.
It allows you to import your customers and catalogs from Excel imports and online channels.
The scalable software supports multi-store and multi-register functionality.
Can be deployed on – Web-Based, Cloud, SaaS, and iPhone / iPad
Cons
They don't have a free version.
The software is not that easy to navigate and requires proper training to ensure its optimal use.
Pricing
It starts at $59.00 per month and can go up to $299 for all business sizes.
Best Suited For
SME to large Retailers who sell on multiple channels, including retail stores, pop-up stores, Amazon, etc.
USP: It integrates with multiple shippers worldwide.
5. GoFrugal by GoFrugal
Gofrugal is a  specialized retail billing software to address unique needs. It is comprehensive retail billing software that fits any industry size or type.
It serves many different industries as well: Supermarket Fruits & Vegetables, Groceries & Departmental Stores, Pharma & Healthcare, Apparel & Footwear, Electrical & Electronic, Lifestyle & Fashion, Specialized Retail.  It also has a mobile app that takes orders, verification of the stock status, and steward management for various industries. It works seamlessly on three devices – Online POS, Mobile POS, and Desktop POS.
Features
Fast Billing
Inventory
Smart reports
Integrations
CRM & Loyalty
Multi-store management
Pros
Serves the needs of multiple industries
It allows users to generate inventory reports, fill orders for customers, and set up automated ordering.
All-inclusive POS (Point of Sale) platform
Offers multi-store management
Perfect for users with multiple locations
Cons
Prices are slightly on the higher side.
Pricing
Starter Plan – $375 per month
Standard Plan – $625 per month
Professional Plan – $1500
ERP – Price on request
Best Suited For
Small and mid-sized enterprises
USP: Offers a free trial
6. AcTouch by AcTouch.com
Designed for retail and inventory management, AcTouch is a name to reckon with. The product provides best-in-class audit controls and financial reporting capabilities. It is curated for working professionals & SMBs businesses that process significant volumes of transactions.
While using the software, you will experience a very comfortable interface with large icons on the dashboard. The software incorporates 250 functionalities, and the design of the menu is such that one can easily navigate features. The overall design is simple, which saves you from spending too much time learning the software. The software is also quick to load, which would help you in increasing your efficiency.
Features
Generates professional-looking invoices and the sales order
Efficiently manages inventory with its set of tools, like real-time stock, sales, and purchases, ABC costing, and POS integration.
Helps you monitor your purchases and track receipts
Enables alert messages when you need to replenish your stock again
Pros
Users can create sales orders and manage returns.
Track product levels with stock management features and costing tools
Business owners can efficiently manage sales, purchases, payment, and receipts.
Affordable
Good customer service
Cons
Alerts section needs improvement.
Pricing
Starting Price – $20/month/user
Best Suited For
Manufacturers with multiple units
Small and mid-sized enterprises
USP: Offers a free trial
7. eLite ERP Retail by Accusol
It is designed especially for small- and medium-sized businesses like retailers, clothing and apparel stores, grocery stores, Spa and salon stores, and store franchisees.
The eLite ERP Retail enables smooth and flawless operation of sales, inventory management, and supplier and customer management. Its user-friendliness and interactive dashboard allow the user to have a complete overview of the transaction.
Features
Interactive dashboard
Complete control of inventory management
Re-ordering facility
Provides supplies for schemes
Ease of accounting
Coordination with weighing scale
Pros
Perfect for small enterprises with budget constraints
Smart Windows-based ERP solution
Easy to use
It offers modules for Financial Accounting, Sales Management, Procurement, Inventory, & Production.
Cons
Cannot be deployed on Mac or Android-based devices
Pricing
On request
Best Suited For
Small and mid-sized enterprises
USP: Cost-effective solution for bootstrapped startups
8. RetailPRO by Integrated Retail
RetailPRO enhances your store's inventory management and POS, thereby leading to cost reduction and increased efficiency by employee management, managing the back and front office, call center, e-commerce, and order fulfillment.
Features
CRM
Loss prevention feature
Reporting tools: They are used for retail inventory management and sales and purchase. Each report can be customized as per your requirements
Customized user interface tools
The best solution for chains and franchise
A practical solution that gives you peace of mind
Advanced features for saving time and money
Increases your revenues and profits
Pros
Dynamic & scalable retail POS solution
Cost-effective
On-site and Off-site support
Their services include SRS, Documentation, Implementation, Custom Development, etc.
Cons
The software may be slow to respond
Updates and technical support cost extra
Pricing
On request
Best Suited For
Small and mid-sized enterprises
USP: Offers a free demo
9. Uniretail by VRS software
Uniretail is a powerful and fully integrated business software that provides solutions to retailers, distributors, and wholesalers. It is user-friendly, affordable, easy to use, and can be quickly implemented. Based on the Microsoft .net platform, it has an SQL Server as a back-end and can be used in online and offline mode.
Features
Comprehensive sales management system
Inventory management system
Consumer relationship management
Managing accounts and finance
Generating reports
Generation of advanced MIS reports: Analysis reports of sales, stock, comparative analysis, and ABC reports.
Pros
Affordable
Quick to implement
Easy to use
It allows the enterprises to manage overall ERP operations, including inventory, accounts, POS, and CRM, from a single platform.
Cons
Does not provide live support
Pricing
On request
Best Suited For
Small and mid-sized enterprises
USP: Very user friendly and comes with a quick start-up guide.
10. Zoho Inventory Software
A cloud-based inventory solution, Zoho Inventory features inventory management modules, including reporting and analysis, vendor managed inventory, and lot traceability. It features mobile compatible apps for Android and iOS devices.
The software features built-in shipment estimating, tracking, and delivery confirmation features. The solution allows users to create purchase orders, backorders, and drop shipments.
Features
Manufacturing inventory management system
Multi-channel management
Reorder management
Product identification
Supplier management
Reporting/analytics
Pros
It offers mobile compatible apps for Android and iOS devices.
Users can track every item in the inventory with serial numbers and the batch monitoring feature.
Cons
Prices can be an inhibitory factor for small business owners.
Pricing:
Basic – $49/organization/month. Includes 1500 online orders & 150 shipments per month.
Standard – $99/organization/month. Includes 10000 online orders & 1000 shipments per month.
Professional – $249/organization/month. Includes 30000 online orders & 3000 shipments per month.
Best Suited For
Small and mid-sized enterprises
USP: It offers multiple shipping and CRM integrations.
11. PharmSoft Software
PharmSoft billing software is a detailed solution for stand-alone pharmaceutical retailers and pharmacies. It helps engage customers efficiently with complete information about their prescription orders and process prescriptions in the least possible timeframe.
Features
Auto purchase generation from suppliers pending order & challan
Pop-up message for short expiry items
Fix different sales rate on MRP / purchase rate/margin bases
Cash, credit card & credit sale
Substitute medicine searching based on the salt formula
GST compliant accounting
Pros
Offers customization, mobile support
Affordable
Good support service
Helps mechanize different deals and stock administration forms
Cons
It is unable to manage multi-location handling.
Pricing
Yearly Plan – Rs. 9999/- per year
PharmaSoft Wholesale – Rs. 15000/- per year
Best Suited For
Standalone retailers & pharmacists
USP: Offers best-in-class, advanced features for managing sales services
12. FusionRetail POS Software
FusionRetail is one of the best POS software solutions for a stand-alone retail store or a chain. It provides a safe & secure retail management system, touch & scan point-of-sale (POS) with billing, barcoding, inventory control, financial accounting & management, chain store management, payroll, customer loyalty program, CRM, MIS, and Mobile Reporting.
Features
Accounting
Barcode Integration
Customer Management
Email Marketing / SMS Marketing
Import/Export DataBase
Audit Trail
Cloud Computing
Inventory Management
Pros
Easy to setup
Allows automation of tasks
Reduces operational costs
Increases efficiency
Cons
It does not offer iOS or Android mobile apps.
Pricing
Lite – Monthly (Rs 800), Lifetime single user (Rs 15000)
Best Suited For
Small and mid-sized enterprises
USP: It is an all in one, cost-effective POS software for all your retail needs
13. Ginesys Software
Ginesys is an ERP software that covers the entire retail value chain from manufacturing to distribution to retail. A leading end to end software provider, its features include Purchase, Inventory, Production, wholesale & distribution, Finance/Accounts, Point-of-Sale, Loyalty management, Replenishment Planning, Data Analytics, and omnichannel. They have worked across verticals like apparel, footwear, accessories, supermarket, lifestyle & home furnishing.
Features
Accounting
Email Integration
Inventory Management
Barcode Integration
Email Marketing / SMS Marketing
Multi-Location
Pros
Organizes your SKUs and SKU list
Offers business analytics capabilities
Provides omnichannel functionality
It enables wholesale and distribution companies to sell through distributors, franchisees, using its distribution and trade module.
Cons
Pricing
Rs. 5000/- per month for HO users
Rs. 2500/- per month for POS users
Best Suited For
Large, small, and mid-sized enterprises
USP: Cost-effective, scalable, and reliable solution for retail needs
To sum up, there is a plethora of retail inventory management software available in India. However, you need to thoroughly understand your needs and match them with the features offered by any given software. We hope that the above article helped you narrow down your search to the perfect retail inventory management solution. Got any more questions? Let us know in the comments below; we would be more than happy to help you find a suitable solution.